Farmleigh Adventure Fun Weekend
Yes that's rights, its all free,
Outdoor Community is bringing you yet another adventure weekend,  come along to Farmleigh House in the Phoenix Park this Weekend 31st August – 1st September for our Family Adventure Weekend, 11am to 5pm both days.
LIVE MUSIC BOTH DAYS
Saturday: DJ and live music from Keltic Rhapsody
https://www.facebook.com/pages/Keltic-Rhapsody-Wedding-Music/198755076835285
Sunday: Almost 9 different acts playing the day with thanks to Time Bomb Sessions
https://www.facebook.com/timebomb.sessions.3
Fun and adventure for all the family, and best of all, all the activities are completely FREE for everyone!  No booking required, just come along on either day and take part.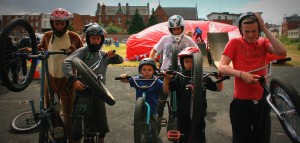 Activities Include:

Mountain Biking 
A mini mountain biking obstacle course with adult and child size bikes with expert tips from on-hand instructors.
Come along and watch some of Ireland bravest BMX bikers display there skills while in the Air, Lauching from a 15foot long ramp they will, backflip, front flip, 360, barspin, whip, and land on our huge 15 metre long Airbag,
Rock Climbing
A fully mobile climbing wall, Ireland's Highest Mobile Wall, with 5 climbing points and safety harnesses for all sizes. There will be instructors to point and help you on your way,( Saturday Only)
BMX Display Team
Come along and watch the fantastic Dirt Monkeys Freestyle Display Team put on a show of skill and courage in the sport of BMX, The louder you cheer the higher they go. ( Sunday Only)
Archery
Show Robin Hood who is boss and try your hand at Archery.  Adult and child bow sizes available
Archery Tag
Get involved in this new form of Archery where you get to shoot at you friends and family, Yes that right, you'll get a safety mask so no one can recognize you and then you just shoot whoever you want within the range, with foam arrow ends of course.
Orienteering Course –
Find your way around the beautiful Farmleigh grounds in a treasure hunt style orienteering adventure. Maps provided
Walk on water without even getting your feet wet!.  Jump into a giant balloon/bubble and try to keep your balance as you skate around the Farmleigh pond.
Land Zorbing  
Jump into a giant balloon and fling yourself around the lands of Farmleigh! More fun than it sounds…
Family/Team Games 
Pit your wits against other families, teams and even your own kids with our collection of team games and brain teasing puzzles.
Call Ger On 0851639027 for more info or if you just have a general question about what's going on.  Hope To See You All There…