5 Hill-Walkers Rescued From Wicklow.
At 16:50 hours Thursday, 27th December, An Garda Síochána requested the help from the Dublin & Wicklow Mountain Rescue Team and the Glen of Imaal Irish Red Cross Mountain Rescue Team for a group of 5 hill walkers who strayed into the army impact zone in the Glen of Imaal.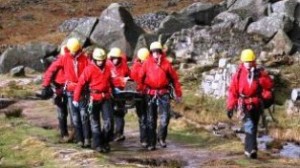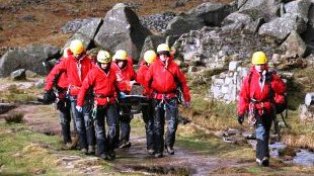 The group of 5 (3 Males & 2 Females) who were experienced walkers had started from the Glenmalure Youth Hostel.
After they summited Lugnaquilla and in fading light they became disorientated and wrongly descended towards the Glen of Imaal were they strayed into the impact zone of the Irish Army Training Area.
When they realised they were lost they contacted mountain rescue to request their help. They were located using their smart phone in conjunction with SARLOC, the custom built mountain rescue GPS location software. It was only when the group were located using SARLOC did we realise they were in the impact zone.
The impact zone is a live firing range that is used by the army on a regular basis and has been in use since the early 1900's. Caution is advised to all walkers who enter this restricted area as there are a number of unexploded ordinates in the area.
Members of the Irish army were dispatched from the Army Warden Range at Seskin School on all-terrain vehicles and liaised with Mountain Rescue to get to the location of the walkers. The located the walkers at 19:00hrs and guided them out to safety.
All were off the hill by 20:00hrs and transported back to the Glenmalure Hostel by MR personnel. Although a little embarrassed none of the group of 5 were injured.
Mountain Rescue would like to thank all those involved in today's successful rescue including:An Garda Síochána and the Irish Army