WEATHER WARNING
The Sally Gap is IMPASSABLE, DO NOT ATTEMPT to use it right now. There has been heavy accumulation of Snow overnight. Best to AVOID all High Mountain Pass Roads for now.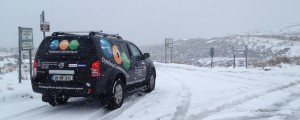 We took a quick trip up to the Sally Gap today to see what all the fuss was about.  There were lots and lots of folks heading up there  in small two wheel drive cars, wheels spinning and sliding all over the place with some very angry girlfriends and wife's looking very pissed off at their mans need to go against all the warnings. We are not saying that you are safe in a four wheeled drive but it does help to have one if you really have to go up there for whatever reason.
  This chap and his mates decided to take a trip off the road across open land. What where they thinking. As if the snow on the road wasn't enough,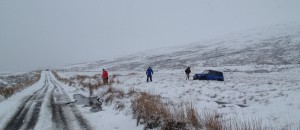 Madness.. How some of these even make it as far as the Sally Gap is madness. 
Mountain Rescues Report – from last months warning below. 
IMPASSABLE ROADS IN WICKLOW MOUNTAINS
Wicklow's Mountain Rescue Teams have been stretched to the limit over the weekend with snow falling on Saturday afternoon and sub zero temperatures.
High Mountain pass roads up and around the Sally Gap have been coated with a thick layer of ice of up to 50mm.
Snow has then fallen on this making them completely impassable! However people are still trying to go up there!
Over 100 people had to be rescued from stranded vehicles in the past 48hrs.
There are more than 20 abandoned vehicles still around the Sally Gap and the numbers are continuing to increase! 
Amongst the people that have been rescued are children, some as young as 1 year old.
With this weather set to continue until the weekend, we would ask people to stay away from the Sally Gap area until further notice.
If people do go up there and get stranded they need to be prepared to spend the night in freezing temps below -5 deg C.
Even though we have 4 Wheel Drive vehicles with proper winter tires and training, we can not guarantee we will get to you.
Wise word from the Glen Of Immal Mountain Rescue Team. Please enjoy your venture to the Wicklow Mountains but please check the weather first and keep in touch with the links below to know whats happening in your local mountain range before you travel up and get stuck.
The Glen Of Imall Mountain Rescue
The Dublin And Wicklow Mountain Recue Team